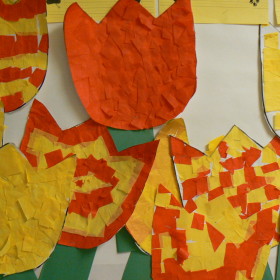 Becoming the new principal of École Margaret Jenkins Elementary School this year has been very rewarding, notwithstanding the unusual challenges! On one hand, a pandemic does not make it easy to get to know the community. With fewer opportunities to meet parents and with keeping more distance than usual from staff and students (usually wearing a mask), connections can be harder to make. On the other hand, joining a school during a difficult pandemic really shows the quality of the community. I have had the chance this fall to see the strengths of the EMJS students, staff and families.
Several things stand out with Margaret Jenkins students. They bring energy, curiosity and imagination  into the school each day. They are excited to learn and love the chance to play and work together.  In September, we saw how happy the students were to be back together – learning with their teachers and friends. We are seeing that again this January after winter holidays. In this pandemic, school is one of the safer places for them to be together and one of the best opportunities for their minds and selves to grow.
One of the first things I noticed about the Margaret Jenkins teachers and staff is how much they care, both for each student's well-being and for each other. They are deeply committed to good teaching and learning, which means they keep students at the centre of their planning and practice. I've watched as they give their time and effort to make lessons effective and engaging. What has also become clear is how important the Margaret Jenkins staff's own learning is.  Our staff works together regularly,  sharing their discoveries, experiences and expertise in order to grow as educators and to become even more effective in their practice. It has been said that the best teaching happens where the teachers learn with the students, and that is the culture here at EMJS.
The parent and family community here at Margaret Jenkins is also outstanding. Of course, compared to a usual year, there have been many fewer opportunities to meet with parents and families of our students. Nevertheless, I have enjoyed conversations over the phone, zoom meetings, and even a few meetings over the fence from a couple of metres away with many Margaret Jenkins parents. So while our time together has not been as full as I would prefer, I can say without hesitation that the families at EMJS value education. They are strong advocates for their own children and they also care about the whole community. Sharing and listening to ideas and thoughts about how the school works and discussions to help the school community support their children happen a lot here with parents. I should also specifically note the willingness for our families to stand with and support our COVID protocols – that has been a very significant part of making our school work so well this fall.
All together, the students, staff and families at Margaret Jenkins have done an amazing job of learning, playing and sharing despite the unusual start to the year. We are not though this pandemic yet, and there may yet be some more adjustments and changes we have to make in the school before we are. In any case, the students, staff and families at Margaret Jenkins make up a terrific school and community that we all can be proud of!
James Hansen,
Principal/Directeur